Only on the App Store
Calculate smart and in style + Save your money on a financial planner!
We eliminate time waste, that's why CALC Apps exist! ~ A Smarter way to do your daily math. iOS16 optimized + as Fans like to point out: "Functionality & Beauty can co-exist!" CALC features advanced scientific & basic calculator functions, unit & currency conversion, and an elegant user interface. CALC is highly customizable and comes with a Widget, an Apple Watch App and a large community of Users that Love it!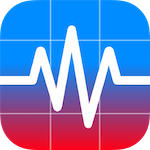 STOP budgeting your past and START forecasting your future! It's as easy as 1-2-3 just try it out and you shall see :-) Users tell us privately things like: "I'd give up my girlfriend before giving up your app". We can relate, Cash Cast has been the #1 go-to financial planner for many and it's also the same tool we've been using for over a decade ourselves.
Used by thousands in iPad equipped classrooms, CALC Prime is optimized for productivity on iOS10-12. It's the multi-tasking powerhouse of tools & features you've been seeking. This release was specifically designed for Working Professionals and Classroom Teacher/Student settings. No pup-ups, external links or any end-user stats collection with the exception of the startup tutorial and the UserVoice powered support center. (MDM & AppConfig enabled for EMM systems such as IBM's MaaS360)
Our Apps do the Math for you!
CALC – AKA Smart Scientific Calculator is designed to Calculate & Convert promptly and accurately while providing few swift tricks aimed at saving your #1 resource: Time.
Cash Cast – The Budget Master does another nifty math trick while providing no-strings attached free Cash Flow Forecasting to you or even your entire household to safeguard your financial future.
Both apps are designed to offload your mind from some of the unnecessary clutter we face so much of these days and as a result help you focus on what truly matters to you!
CALC & Cash Cast also make a perfect pair of productivity improvements to add to your portfolio of goto apps!
APP Testimonials
We have received thousands of positive reviews on the App Store world-wide. We are always evaluating all user feedback to keep the innovation coming and users happy! Here are a select few reviews:
LATEST APP NEWS
Upcoming updates, New app releases and PR
This quick time calculator will assist you in determining how many hours you spend and save over the course of your productive lifespan. This can help reduce some of the time waste we often neglect in our lives, such as watching unwanted commercials or online ads that can take up hours of our lives every
-> Continue reading Personal Time Calculator ~ Save your #1 resource 😉
Previous
Next